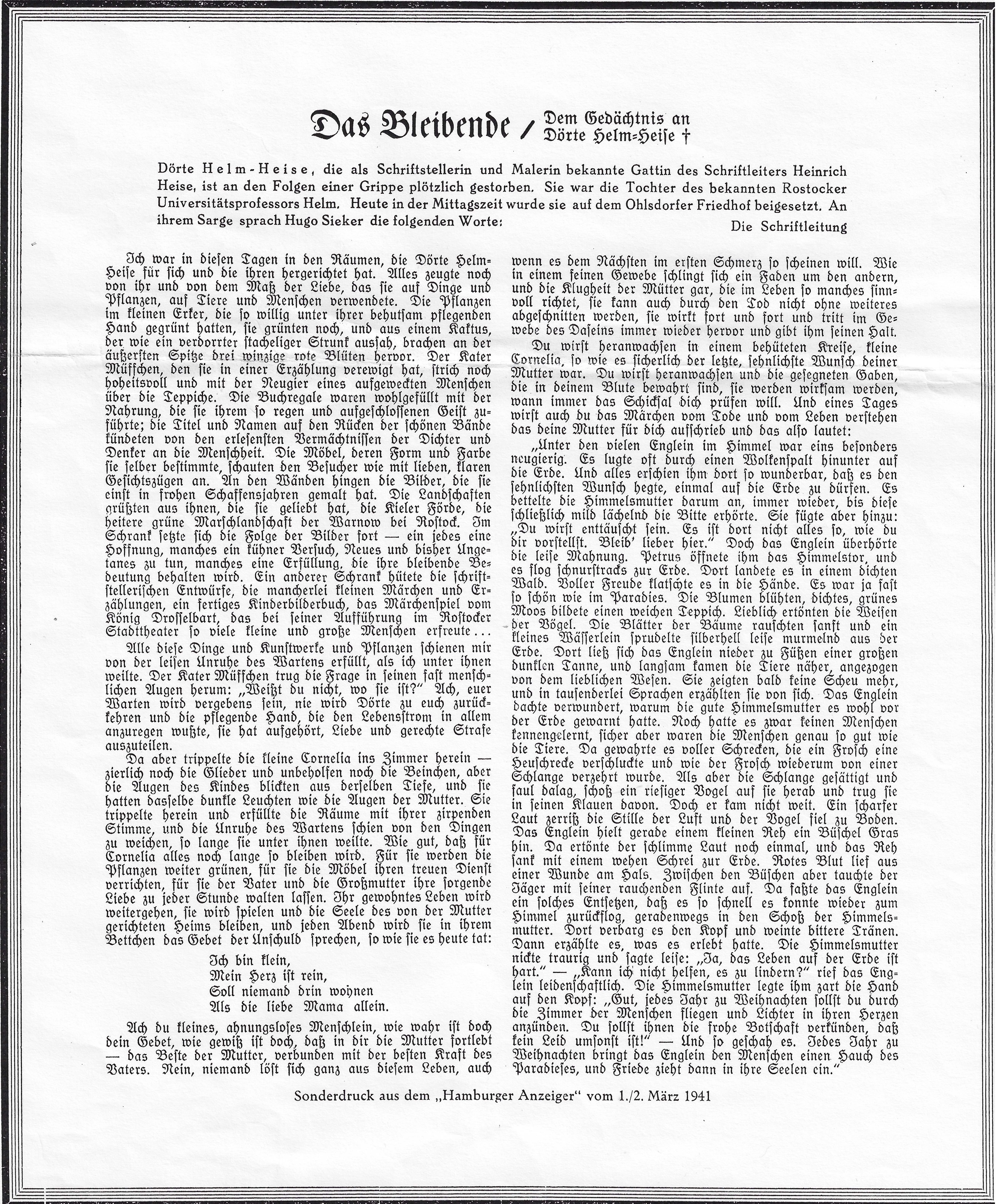 In the dark times until 1945, the story of Cornelia Heise (Dörte Helm's then two-year-old daughter) unfortunately did not continue in the fashion that Hugo Sieker had wished and hoped for in the beautiful eulogy he gave. Dörte's husband Heinrich Heise was sent to the front, which is why Cornelia came to live with her grandmother Alice Helm and her grandfather Rudolf Helm in Berlin. Alice, as a Jew, as well as her husband Rudolf, felt the extreme limitations and harassments of the regime. Cornelia was supposed to leave Berlin as quickly as possible. Some time after Dörte's death, Heinrich Heise married Lissi Bothmann, a colleague of his at the "Funkwacht" (radio program guide) in Hamburg. They got married while apart, him at the front and her at the registry office in Hamburg. Lissi Bothmann had known the family, including Dörte and her parents, for several years. Cornelia came to Lissi in Hamburg, where they both moved to Dörte's and Heinrich's apartment in Fuhlsbüttel. Heinrich came to join them for a few weeks during a furlough until he had to return to the front – from which he should never return, as he is registered as missing at the Eastern front. During this short visit back home, Lissi got pregnant with Cornelia's little brother Heinrich (Heiner), much to Cornelia's delight. Lissi raised Cornelia with much love, as her own daughter. She did not change anything in the home that Dörte had decorated and Hugo Sieker described in the eulogy, including the art, books, and other works. It is certainly to Lissi's merit that a large of a share of Dörte Helm's works were not destroyed during the horrible and difficult times during and after the war. Lissi had to raise two children as a single mother. Many things were only available on the illegal and unofficial markets, without which it was nearly impossible to survive. Lissi never used Dörte Helm's works and belongings for these purposes. During the time after the war, it was required of homeowners to share their apartments and houses with homeless people due to the overall housing shortage. Even during the time when Lissi, Cornelia and Heiner provided shelter to a woman and her son, Dörte's belonging remained untouched. Later on, Lissi and her children moved into their own house. Dörte Helm's works moved with them free of damage, which is why they are still preserved today. The works of Dörte Helm that were kept not by Cornelia, but by Dörte's close friends and family, were always loved and honored. Because they occupied such important spaces in their hearts, lives, and homes, these works have also been preserved throughout the years until today.
Dörte Helm was forgotten in the public sphere. Only after the fall of the Berlin Wall was her work rediscovered and discussed – by Dr. Peter Palme, the 'Kustus' of the art collection at the University of Rostock at the time. In late 2007, Sabine Jastram Porsche led and Dr. Katrin Arrieta curated the first great exhibition in the 'Kunstkaten Ahrenshoop', showcasing Dörte Helm's works. Further exhibitions followed, for example in 2009 at the 'Haus am Horn' in Weimar under the lead of Michael Siebenbrodt. Most recently, Alexander Gehrke exhibited some of Dörte Helm's works in public – in his gallery 'Joost van Mar' and at an exhibition in Rostock in 2019. In the literary realm, Dörte Helm has also been forgotten. While she is sporadically mentioned in some publications about the history of the Bauhaus, she is not often discussed in historical publications about the Bauhaus up until today. Ulrike Müller was the first to dedicate a large part of her 2019 book "Bauhausfrauen" ('Bauhaus women') to Dörte Helm. In all previous publications, Dörte Helm's name was merely mentioned. In light of the 100th anniversary of the Bauhaus in Weimar, the public has begun to be more interested in and aware of the Bauhaus once again. This also included German TV, which chose to focus on Dörte Helm as one of the main figures in a movie about the beginning times of the Bauhaus – much to our, Dörte's family, surprise. In the ARD film "Lotte am Bauhaus" ('Lotte at the Bauhaus'), the filmmakers attribute a role to Dörte that is not related to facts and reality. The best example is that Dörte never studied at the Bauhaus in Dessau, not even speaking of the opening ceremony. Neither ARD, nor the production company, nor other contributors to or actors in the movie ever consulted us, the family, to either ask for consent or get legitimate information about Dörte Helm.
In the six-part series "Die neue Zeit" ('The new era') by ZDF and ARTE, zero one film and Lars Kraume, the circumstances are different: for this movie we were asked for permission and consulted. Anna Maria Mühe, the actress who played Dörte Helm in the series, also met with Cornelia Heise to learn more about Cornelia's mother. However, she had no influence on the script, which means it is important to remember that this series is a work of fiction. As Thomas Kufus, producer of the series and executive director of one zero film, said: "It is fiction – as close to reality as possible!"
We will leave this without comment and through the access to this website, we would like to offer a realistic and truthful insight into Dörte Helm's life to all people who are interested in the real Dörte Helm.
Dörte Helm left behind a daughter and would have had a grandson and a great-granddaughter today.
Her works can be found today in the Bauhaus Archiv Berlin, at the Bauhaus Weimar, at the Art Museum Ahrenshoop, at the Cultural Historical Museum in Rostock, at the City Museum in Kassel, at the Centre Pompidou Paris, at the Tate Museum in London, and at the Moma in New York.
Philip Heise, August 2019